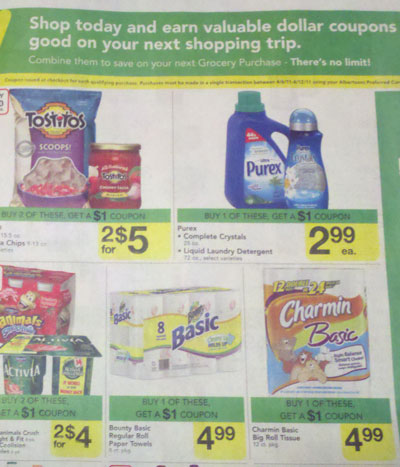 This upcoming week at Albertsons we will be scoring some FREE Purex!
Here is how the deal works:
Buy Purex Complete Crystals 28 oz – $2.99
-use $2/1 coupon from 3/13 RP insert
= Pay .99, get back $1 Coupon for your next shopping trip.
Then, do it again! – Buy Purex Crystals – $2.99
-use $2/1 from 3/13 RP insert
+ use $1/1 catalina you just earned
= Pay ZERO and get back another $1 catalina!
You could do this deal again and again (it's called ROLLING your Catalinas) and pay nothing over and over again!! What a great deal!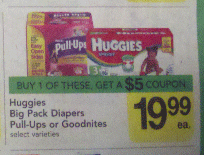 Also part of this promo is Huggies Diapers Big Packs! You can get diapers as low as .12 each! You might want to get printing these coupons right away if you are planning on stocking up!
Huggies Big Pack Diapers, Pull-ups or Goodnites $19.99
Buy 1 Get $5 Coupon
$3.50/1 Huggies Diapers 60ct or moreprintable coupon
$3.00/1 Huggies Diapers 60ct+ printable coupon
$3.00/1 Huggies printable coupon (must share with friends)
-$2/2 Huggies Little Movers or Snugglers diapers, SS 3/20
$2/1 Pull-Ups printable coupon
$2/1 Huggies Diapers printable coupon
= as low as $11.49 for a big pack (which is .12 per diaper for size 3)