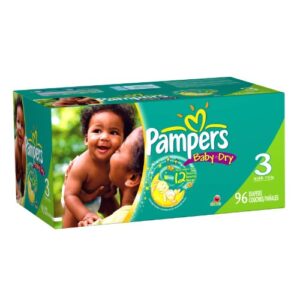 Holy Kamoly! This is a HOT deal!  Check it out!
Buy Pampers Diapers and Wipes between 5/2 – 5/16 in a single shopping trip and get the following catalinas:
Spend $10.00, Receive $2.00 Catalina off your next order of Pampers
Spend $20.00, Receive $5.00 Catalina off your next order of Pampers
Combine this with the P&G Promo: Spend $20 on participating products, get $5.00 off your next shopping trip. Pampers diaper boxes are included in this sale at $19.99 each. So…..
Buy:
1 big pack Pampers Diapers – $19.99
1 Pampers Wipes – $2.69
subtotal = $22.68
– use $1.50/1 Pampers from 5/1 PG
– use .50/1 Pampers wipes from 5/1 PG
– AND use 1 Albertsons twice the value coupon (.50)
Pay $20.18, get back $5 catalina for Pampers, and $5 catalina for PG promo + 5 Redbox codes!
= Like only paying $10.18 for a box of diapers and a pkg of wipes and 5 free redbox codes too! Wowsers!
So if you do the math, just considering the diapers – you get 96 size 3 diapers for $10.18 (that is .11 per diaper) plus you get the pack of wipes and 5 redbox codes. What a sweet deal!
(Thanks Coupon Connections NW for this amazing deal find!! )