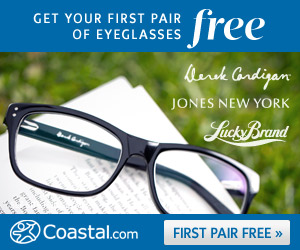 UPDATE: You will have to pay shipping which is $14.95. Â Sorry. Â STILL a smokin' deal though!!!
This offer is SO awesome for eyeglass wearers!! Â Those of us who are not blessed with 20/20 vision know how much it is for glasses and contacts. Â Ugh. Â I could go on a nice vacation for the amount I fork out each year 🙂
If you haven't already done this offer, DO IT!  Completely FREE Eyeglasses!!  Offer ends July 31!
I love mine. 🙂 All you need is your current prescription, then just search for a pair you like! The measurements make it pretty dang easy to pick one that will be a great fit for you.