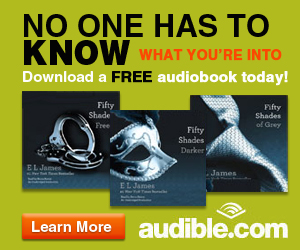 Have you ever listened to an audio book?
I love to listen to an audio book when I need to be getting stuff done like doing dishes or folding laundry. Maybe I am weird, but I love to read and I could get lost in a book for days at a time if life would allow it!
Anyhow – Let's get to what is important here shall we? 🙂
Download a FREE Audible audiobook today! Fifty Shades of Grey anyone??
Get your first 30 days of the AudibleListener Gold membership plan FREE, which includes one FREE credit which typically equals one audiobook.
Choose from over 100,000 audiobooks!
After your 30 day trial, your membership will automatically renew each month for just $14.95, billed to the credit card you used when you registered with Audible. With your membership, you will receive one credit per month plus members-only discounts on all audio purchases. You can cancel your membership before your free trial period is up, you will not be charged.