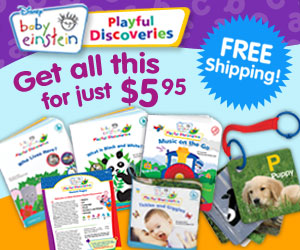 If you have a little one at home, check out this great deal this morning. Right now you can pick 3 Baby Einstein Board Books, 1 Plush Book, Discovery Cards with an attachable ring and a parent sheet for only $5.95 SHIPPED!
You just need to sign up for the Baby Einstein book club (please note – this is NOT the normal "book club" where you are committed to purchasing more books - you will just need to cancel after you get your shipment as stated below).
You just need to place your order for the 3 books + a FREE plush book and cards with ring + FREE shipping!
You can also choose to order another book OR you can "Uncheck" the box (as seen below) to not add the other book making your total $5.95 for everything shipped!!
**Once you get your items in the mail, you can cancel the club membership, you won't receive any more shipments and are not required to purchase or pay anything else.